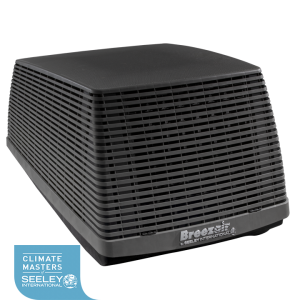 Simplyair offers various affordable and practical cooling solutions for both homes and commercial spaces, including evaporative cooling. Evaporative cooling checks all the boxes, with 20% of Australia moving over to this clean, efficient and cost-effective cooling alternative.
Also known as adiabatic cooling, evaporative cooling is the process of cooling air using only fans, water and air. How does this all add up to a cooler and more comfortable space in the well-known hot Australian summers?
An innovative approach to cooling
Evaporative cooling is a cooling solution achieved through just that, evaporation. Unlike conventional air-conditioning solutions, evaporative cooling does not require any chemical refrigerants, only a steady water supply and simple maintenance. Evaporative cooling is subsequently a more environmentally sustainable cooling solution. By drawing in air from outside of your home, evaporative coolers filter this air through wet pads, causing the water to evaporate and cool the air by increasing humidity levels. This process is similar to gently misting the air or a cool rag on your head but is achieved through a more sophisticated and automated means.
Solutions may depend on your home and local weather conditions, and your own personal cooling needs. Fortunately, at Simplyair our experienced team is happy to provide in-depth solutions to your individual needs.
How evaporative cooling works in the home
Simplyair offers various evaporative cooling models and many ways that our team can install evaporative cooling in your home. Installation methods can vary depending on the layout and cooling requirements of your property.
Evaporative cooling is a fantastic alternative to air-conditioning for Australian households, with the low price and reduced maintenance, allowing you more time to enjoy the money and labour that you've saved through smart, clean energy investments.
Cooling air by evaporating water
It is essential when using evaporative cooling to understand how the process works and how you can assist it in functioning efficiently to increase the effectiveness and power-saving qualities of your new system. A common misconception is that you can aid your evaporative cooling systems by using ice in the water tank to cool the water. This reasoning is counterproductive and causes water to evaporate slower due to the evaporation process requiring the water to heat up slightly to evaporate. Some evaporative coolers are specifically designed to use ice packs, but it is essential to distinguish them from standard coolers.
Other considerations to make when operating your evaporative cooler include the airflow in your living space. When using an evaporative cooler, the humidity levels in your home will increase as the air cools. Whilst this increased evaporation is essential to the cooling process, it is also important to cycle this air out through appropriate airflow. Your experience with air-conditioning may cause you to try to trap the cool air you're generating instinctually, but evaporative cooling provides the extra benefit of cycling through fresh air every two minutes. This steady generation of cool and freshly humidified air means that it is crucial you leave a window open to filter out the humid air, keeping the air inside fresh and comfortable. Generally, this will require experimentation with your evaporative cooler's placement and consideration towards the direction of sunlight in relation to your household. It stands to reason that if direct sunlight is shining through the window you've chosen to use as your air vent, it will heat the room.
Our specialist team at Simplyair is happy to help you find the best setup and instruct you on your system's appropriate airflow generation to ensure proper air distribution.
Distribution of humidified air
You may be concerned with increasing humidified air in your home that the air-quality could become muggy or over-saturated. This is a common misconception; a properly installed evaporative cooling system simply requires research and knowledge of your home's size, local weather conditions, and airflow options. Evaporative cooling requires constant access to fresh air to reduce the air's moisture by releasing it out of the home. If you already live in a humid environment such as the Gold Coast or Queensland, you may consider a two-stage evaporative cooling system. These systems can reach cooler temperatures than standard evaporative coolers and require 50% less air volume. Two-stage evaporative cooling uses exhaust to release the air as it cools and has displayed a reduced humidity level compared to other systems. Whilst this system shows humidity levels less than standard methods, it is still present, but it is worth noting that humidity levels of 40 to 60% can provide health benefits. These health benefits will be covered in a later section of this article.
The most cost-effective cooling
The most significant draw and benefit for evaporative cooling is, of course, the financial savings it offers. Due to its simplified and innovative cooling methods, evaporative cooling requires less electricity than its air-conditioning counterpart. Evaporative cooling depends solely on electricity for the fans needed to filter air over the cooling pad, making it substantially less draining than air-conditioning, which includes various power eating mechanisms such as compressors and heat exchangers in addition to the fan. Upfront installation costs for evaporative cooling depend on the solution you choose.
Still, in comparing two similar systems, RACV Solar's Tom McKenzie has valued the upfront installation costs of evaporative ducted cooling at $4500 to $6000 compared to the similar ducted split air-conditioning system at $10,000 to $15,000. The savings don't stop there, with evaporative ducted cooling showing a 50% decrease in electricity consumption compared to ducted split air-conditioning, with air-conditioning valued at around 36 to 70 cents per hour per room. This price comparison shows a substantial potential for financial savings, with typical Bonaire evaporative cooling systems offering running rates of 12 cents per hour. Running costs may vary depending on what system you have installed.
The only cost that needs to be assessed when considering an evaporative cooler is water usage, which plays an integral role in this cooling method. Water usage of evaporative coolers is quite minimal per hour, depending on the installed system. Despite increased water consumption, evaporative cooling offers eco-friendly benefits.
The most eco-friendly cooling
Due to substantially less energy consumption, evaporative cooling is already clearly the more eco-friendly option for keeping cool in the summer. However, the environmental benefits don't just stop at the reduction of energy consumption. Evaporative cooling also removes the need for damaging refrigerants known as HCFCs; refrigerants developed to replace CFCs. CFCs are now banned after being found to cause substantial negative environmental impacts to the atmosphere through the release of greenhouse gases. Despite HCFCs causing less greenhouse gas emissions, they still contribute to our environmental footprint. HCFCs themselves are being phased out in the U.S. by 2030.
Comparatively, the release of CO2 into the environment by evaporative systems is substantially less, with evaporative coolers recording 155 to 266 units of CO2 produced compared to 1100 to 1600 units by a 20kW air conditioner. The financial and environmental benefits are undeniable, and due to the nature of evaporative cooling, they don't stop there.
The healthiest cooling system
The increased humidity of evaporative cooling is the key to this system's effectiveness in reducing your household's temperature, and it also boasts health benefits. 40 to 60% humidity levels can be good for you, with the increased humidity reducing the spread of viruses and the prevalence of dry eyes and skin irritation. The increased use of filtration in evaporative cooling systems protects against potential allergens and unwanted smells, making evaporative cooling an excellent choice for people with asthma or allergies. With all of these health benefits, evaporative cooling is also a fantastic choice in office-spaces as it allows better health conditions and safety against sickness that may be spread in smaller spaces. Evaporative coolers offer a constant stream of fresh air as opposed to stale recycled air.
Picking an evaporative cooling system
Breezair – This highly awarded brand is Australia's largest air conditioning manufacturer leading the front to develop cutting-edge rooftop evaporative cooling solutions. Breezair focuses on silent and energy-efficient product development with cutting-edge technology such as the super-efficient Hushpower motor, an exclusive product that maximises efficiency whilst delivering quieter energy generation. Their evaporative cooling products include the Extraordinaire, Supercool and Icon evaporative coolers. Breezair offers discrete rooftop solutions as well as easily maintained cooling systems. As a Seeley International accredited Climate Master of Seeley International, Simplyair offers high-quality services approved by the original Breezair manufacturers.
Braemar – Also provided by Seeley International, Braemar was originally founded in 1938, earning the title of the oldest brand owned by Seeley International. Tried and true, Braemar remains to this day a well-established brand in the Australian market. Braemar offers notable products such as the Evolution, Paradigm and Superstealth Invertair evaporative coolers. The Braemar Evolution stands as a crowning product for Braemar, with a reputation for being the best sloped tank evaporative cooler presently on the market.
Brivis – An esteemed brand, Brivis has developed a reputation for reliability in Australia, with over 50 years of innovation and manufacturing for the Australian market. Brivis offers various evaporative cooling series, including the AD BAL, Advance, Promina and Contour. Brivis carefully tailors development to their Australian market, with attention to detail shown in features such as the AD BAL metal structural support; this is engineered to provide ember protection meeting the Australian Standard Bushfire Attack Level 12.5 (AS1530). Brivis also offers their own mobile support with the Brivis Touch Wi-Fi, an application that uses Wi-Fi control to operate your evaporative cooler directly. This application also offers multiple user support. Otherwise, Brivis offers more traditional controller systems such as the Brivis Touch, a touchscreen display for general use, as well as easy viewing of diagnostic and service notifications. Brivis Touch is fully compatible with Brivis Touch Wi-Fi.
Bonaire – This leading Australian brand has been providing cooling solutions for over 60 years. Bonaire has an extensive evaporative cooling catalogue with products such as the Summer Breeze, Integra II and the Pinnacle. Bonaire has developed various innovative features to maintain their competitive rank in the Australian cooling market, including their Bonaire Air Ioniser, an ioniser included in the Bonaire Pinnacle that actively purifies the air before it is cycled into your home. Bonaire also offers mobile smaller-scale evaporative solutions, including the Diet 22 and Bonaire Winter i, with cooling capabilities from 42m2 to 130m2. Bonaire offers their own Wi-Fi application, the My Climate Wi-Fi control. For a simpler and more straightforward design, Bonaire also offers the Slimline Digital Controller, which offers basic functionality and a timer operation.
Both Braemar and Breezair offer comprehensive warranties under Seeley International, including a 7-year warranty, 10 year cover on structural components and a 25 year cover against corrosion. Seeley International also offers the MagIQTouch Controller, an interactive user interface using smart screen technology to do tasks such as turning the unit on or off, viewing the current temperature, programming temperature preferences for various time-periods, child access lock and an energy-saving quiet mode. MagIQTouch can be paired with a battery-operated wireless controller or the MagIQTouch mobile application, which allows the ability to use voice-activated smart home controls through Google Home and Amazon Alexa.
Selecting an evaporative cooling system for your home can require consideration to many different factors. Evaporative cooling is not as effective in a humid environment, so preferably your local weather conditions would tend to be drier in the summer. Despite this, you may consider what type of system would lend itself to a more humid weather pattern if you live somewhere with slightly higher humidity levels. These things should be touched on when discussing cooling solutions with your installation expert.
Evaporative cooling will save you money on your electricity bill, but it does have an increased level of water consumption. Because of this, it is essential to research and be aware of your local water rates or council restrictions on water usage before committing to an evaporative cooling system.
Suppose you are looking at cooling an office space. In that case, it's essential to consider what equipment and materials are being stored in your area and how they may be affected by increased humidity. Things such as paperwork or mechanical and electronic equipment can be at risk of corrosion damage due to high humidity. It is crucial that you ensure proper ventilation in your space to reduce humidity levels.
Maintenance is generally more streamlined and simplified when applied to evaporative coolers. Still, like any investment, regular maintenance will increase your potential usage and improve performance quality. It is vital that you research and understand the extent of required maintenance for your evaporative cooling system and factor in the related costs.
Finally, the environmental benefits of evaporative cooling are undeniable, allowing you to take one further step into a more sustainable household or office space.
Evaporative cooling is an innovative form of cooling that offers many financial, eco-friendly and health benefits. By researching your local water rates, household/office space and personal cooling needs, you can take the next step with your chosen installation provider to begin a smarter approach to cooling in preparation for next summer. From there it's just a matter of enjoying the dropping temperatures, costs and greenhouse emissions your healthier cooling system offers you!