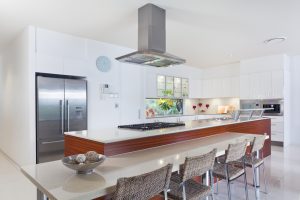 Heating and cooling a Melbourne home can be a significant expense. With single-digit temperatures over the winter and scorching heat in the city over summer, it's no wonder that we use approximately 40% of our energy bill on heating and cooling. With four seasons in one day, effective household temperature control is necessary to maintain comfort in your home.
At Simplyair, we believe that the advanced technology of the Daikin ducted reverse cycle system is an ideal solution for the heating and cooling needs of many Victorian homes, and here are just a few reasons why:
Flexibility
The Daikin ducted system enables you to designate multiple zones in your home, each with their own heating and cooling needs. By controlling the temperature individually across different spaces, you save the energy usually wasted in unused areas and can make sure all the family is comfortable.
Instant Effect
With a ducted system such as Daikin's, you get an instant response when you press the controls. No more waiting around for a room to start warming up or suffering in heat while the cooling process starts. Daikin helps you find more comfort quickly, whether it's 2ºC or 42ºC.
Affordability
Heating and cooling systems can be expensive, but by installing a ducted reverse cycle system you can cover both your winter and summer needs with the same hardware. The hidden ducting can carry warm or cold air depending on your needs, saving the considerable outlay of two separate systems. In choosing a Daikin product, you are guaranteed a superior quality durable and energy efficient product, so there's less chance of needing costly maintenance and repairs.
Discreet Appearance
With your main heating unit installed outside of the house and ducting hidden in the floors and ceilings, you don't have to deal with unsightly parts ruining your interior design. Daikin's Super Aero Grilles will blend seamlessly into your home so you will barely see that the system is even there.
Energy Efficiency
The Daikin heat inverter's intelligent technology adjusts power output to suit every minute of your day. It constantly monitors the current room temperature to ensure that a comfortable environment is consistently maintained. This reduces energy loss and unnecessary temperature control and ultimately saves you money. Daikin is committed to focusing on the environment and has won awards for their energy efficient products.
Noise Control
Daikin recognises that noise control is just as important as climate control. That's why they continue to develop technology to reduce the noise output of their products.
For more information on the Daikin ducted reverse cycle system, or to arrange an installation, just call Simplyair now on 03 8692 7138 or visit us online for more ways to get in touch.