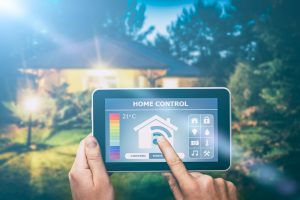 The MagIQtouch is a smart device that lets you control your evaporative air conditioning system in a simple and intuitive way. The screen is about the same size as your smartphone and displays simple menus that enable you to manage the cooling of your home. The MagIQtouch aims to make life just that little bit easier by helping you to keep your home and family cool in the summer in a straightforward and economical way. Read on for our 7 reasons to install a MagIQtouch in your home now.
Save Energy
The MagIQtouch can improve your household energy efficiency in a number of ways. Switch into 'energy saving' mode on the device to enable automated changes and increase evaporative cooling efficiency. Alternatively, use the 'night quiet' function to reduce fan speed overnight, saving you money and making your air-con whisper quiet while you sleep.
Problem Solve
An integral troubleshooting guide means no more annoying fault codes to decipher when you install a MagIQtouch system. When a fault is identified, information can be displayed to help you understand and solve the problem. Not only does this let you learn more about your system but it can also remove the need to call a service agent for small issues.
Easy to Use
The MagIQtouch gives you the option of switching to a simple use mode where only the basic essentials for temperature control are shown. If you want to be able to make quick changes and use pre-set functions, this mode lets you hide all the more complicated tools and access a streamlined screen. The tech-savvy members of the household then have the option to access advanced functionality when needed.
Plan Ahead
With four time periods per day available to pre-set, the MagIQtouch lets you have your home cooled to the exact temperature you want whether you're there or not. The completely customisable 'set and forget' programming means you can schedule your ducted air conditioning to suit your lifestyle seven days a week. If plans change, a manual override lets you adjust the settings on the spot.
Safe for Kids
If you're worried about little hands meddling with your air conditioning, the MagIQtouch allows you to set an access code to restrict use and give you peace of mind.
Multi Zone Control
Change temperature settings in different areas of your home in seconds. Every room has different needs and the MagIQtouch system acknowledges this, offering programming across several zones.
An Aussie Product
Last but not least, the MagIQtouch has been designed and manufactured right here in Australia, so by using it, you're supporting Aussie business and production.
For more information on the MagIQtouch system or to arrange installation, just call SimplyAir now on 03 8692 7138 or view or contact page for more ways to get in touch.