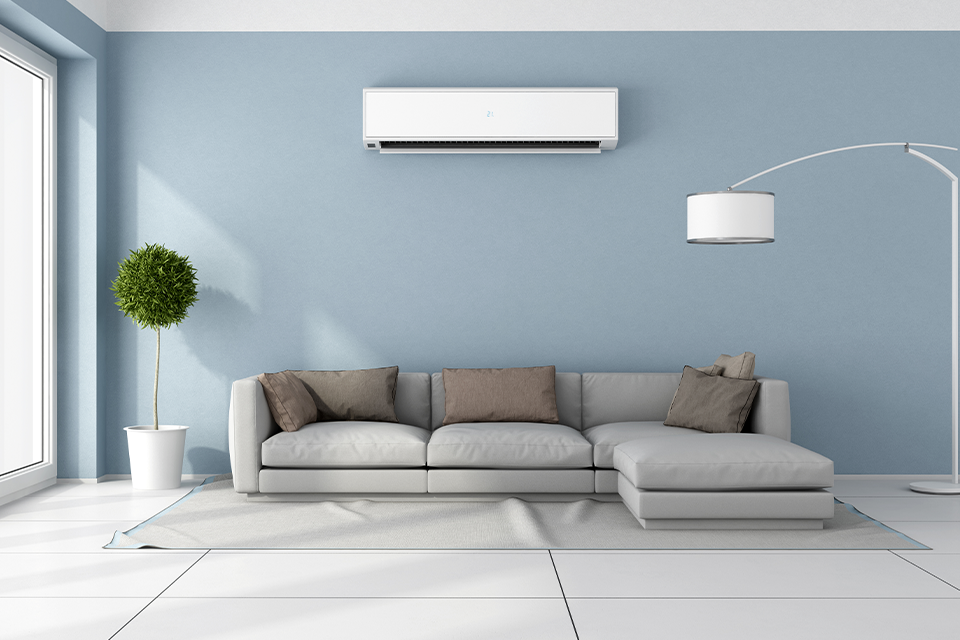 An efficient air conditioning system is crucial for a hot Australian summer; however, before rushing to your local installer, it's important to do your homework. One of the biggest mistakes you can make is purchasing the wrong size air conditioner. Too small an air conditioner and you may struggle to cool your space, or too large, you're likely to anticipate larger than needed energy bills.
This article will help you determine the perfect-sized split system air conditioner for your home by exploring what split system air conditioning is and how room size can impact your system size. We'll also take a look at the various types of split systems and the overall installation process.
What is Split System Air Conditioning?
Split system air conditioning is an air conditioning type made up of two parts, the indoor and outdoor unit. The indoor unit is the wall-mounted part that houses the evaporator coils, while the outdoor unit houses the compressor, condensor and expansion valve.
The indoor unit uses a refrigerant gas which is pumped through the evaporator coils to cool the air drawn from the room while removing the hot air from your home. The gas then cycles through the compressor and is sent to the condensor to cool down the gas to a liquid. When this occurs, the heat drawn from your home is released outside via a fan.
Finally, the liquid refrigerant transfers to the expansion valve, which further cools it before returning it to the evaporator. This cycle is then repeated to provide you with consistent cooling.
Split system air conditioning is favoured in many Australian households as a flexible and affordable system with minimal installation requirements. However, while these systems are fantastic for cooling down in the summer, they will be vastly less efficient without proper sizing.
How Do I Calculate What Size Air Conditioner I Need?
If you're looking for a quick way to calculate your air conditioner size relevant to your room size, a rule of thumb is to multiply the room area (m²) by 150 (watts). The result is then divided by 1000 to get the kilowatt measurement.
Planning out your air conditioning size can save you money in the long run, reducing higher purchase, installation and running costs associated with larger models.
For quick reference, we've provided a table with standard room sizes and their calculated air conditioners to get you started:
Room size
Approx. capacity for a 2.4m high ceiling
Approx. capacity for a 2.7m high ceiling
Approx. capacity for a 3m high ceiling
Small (up to 20m²)

Bedroom, home office, small kitchen

2.25 to 3kW

2.4 to 3.2kW

2.62 to 3.4kW

Medium (20 to 40m²)

Bedroom with ensuite, small loungeroom

3 to 6kW

3.2 to 6.4kW

3.4 to 7kW

Large (40 to 60m²)

Large bedroom, medium-sized loungeroom, large kitchen

6 to 9kW

6.4 to 9.6kW

7 to 10.5kW

Extra large (60m² and up)

Open-plan areas, large loungeroom

9 to 13.5kW

9.6 to 14.4kW

10.5 to 15.75kW
When calculating what size air conditioner you'll need will require consideration given to various other factors, including:
Livable area: What areas do you plan on cooling? It is important to measure only these rooms and consider how airflow will behave between them. Will one room often be closed off? Will you need separate units? These things will impact the size of your air conditioner/s.
Insulation: How old is your property? Older properties can often be poorly insulated. If your property isn't insulated well, it will struggle to maintain your home's temperature in hot weather and may require you to run the unit more often than required in a well-insulated home. You may need to consider a bigger system to account for the insulation in these situations.
Orientation: Depending on what way your room is facing, it may receive more heat. For example, a north or west-facing window will typically receive a lot of heat in the summer. Because of this, your room may require a slightly bigger system to maintain its temperature.
All of these factors can begin to affect the unit size you will need. It's important that you seek professional advice from your local air conditioning installer on what size unit is appropriate for your situation.
Split System Air Conditioner Types
Size isn't the only thing that can impact the efficiency of your split system. There are also numerous types of split systems that you can get. Read on to learn more about the main split system air conditioner types.
Reverse Cycle Split System
Reverse cycle split systems work by including the ability to reverse the refrigeration cycle using a reversing valve. This causes the system to reverse the flow of the aforementioned refrigerant and reverse the roles of the condenser and evaporator coils. Instead of hot air being drawn from the inside and blown out, the hot air is drawn from the outside and blown into the house.
These systems are extremely beneficial due to their dual functionality and make reverse-cycle air conditioners extremely versatile. Having access to this functionality won't just reduce your need for separate heating and cooling systems, but it is also energy-efficient. Transferring heat from outside the home to the inside is far more efficient than warming cold air.
Multi-Head Split System
Multi-head split systems are systems that have multiple indoor units connected to a single outdoor unit. Otherwise, these systems operate identically to single-split systems. These systems are primarily recommended when there is limited outdoor space for various independent systems; however, in terms of installation cost, they actually come out more expensive than split systems. This is due to the extensive piping required to reroute each system to the single outdoor unit.
Additionally, multi-head split systems can be more expensive to source as they are considered specialty items. Finally, being connected to a single condenser can mean that each unit's efficiency and cooling capacity will decrease when operating multiple units simultaneously.
Ceiling Cassette Air Conditioner
A ceiling cassette air conditioner is identifiable by its indoor unit, which is mounted on the ceiling. The conduit that connects the indoor and outdoor units is located in the ceiling. The outdoor unit is then located where it would be for a normal split system.
Ceiling cassette air conditioners are generally not recommended for smaller homes or single rooms and are most often found in commercial spaces. This is because they can effectively cool large spaces and are more powerful than their wall-mounted counterparts. Ceiling cassettes can also be highly desirable due to the wall space saved through a ceiling installation.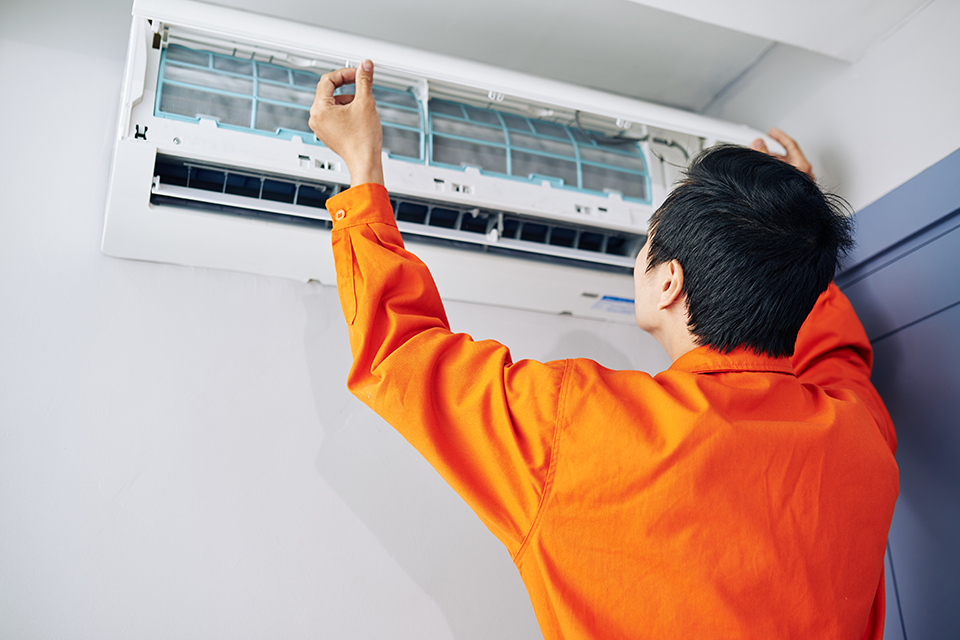 Split System Air Conditioner Installation
Once you have chosen your air conditioner size and system, you'll need to get it installed. This process can take anywhere from 3 to 8 hours; however, this can vary depending on the size and location of your system as well as the required piping and electrical connections.
The installation process usually involves cutting the wall to install and feed through piping between the indoor and outdoor units. The indoor unit is then mounted to the interior wall with all electrical and piping systems in place. A concrete pad is then positioned outside for the outdoor unit to be installed onto. Finally, all piping and electrical cables are connected to their designated outlets.
Now that the system is installed, tests are done to ensure there are no leaks before any piping is fixed to the wall using secure clamps. Any gaps in the hole used for the cable and piping are then sealed closed with polyurethane foam.
Split System Air Conditioner Installation Cost
The cost of a split system installation can vary depending on the installer; however, it typically ranges from $750 to $1000 overall. Some factors that can impact this price include the number of units installed and the installation's overall complexity. The cost can increase if a large amount of piping or cabling is needed.
It's important that your air conditioning installation is completed by a licensed and experienced air conditioning installer to prevent any issues and uphold your warranty. Finding the right air conditioning installer will also improve your system's efficiency and safety.
Split System Installers
Most people find their installation experts through online research, word-of-mouth or other advertising sources. However, once you've found a few different installers, it's important that you compare quotes and look for the following:
An informative and helpful attitude: While communicating, make sure that your specialist is discussing the in's and out's of your air conditioning system and why they think it's best for you. It's important that they work with you to come to a solution that fits your needs and budget.
Professional service: If, even before the job, you are struggling to get a hold of or meet with the installer, odds are they're not going to be super reliable.
Readily available warranty information: Can they provide clear information on their product and installation warranty? If they don't immediately disclose this information, you can't make an informed decision.
After-sales service: Do they provide follow-ups to ensure your system is operating correctly? Will they provide servicing reminders? This is especially important for upholding your warranty.
Comprehensive licensing: Do they have a refrigerant handling licence card? Are they licenced to install your system in general? Air conditioning installations require both plumbing and electrical licensing to be safely completed within the terms of your warranty.
Checking for these things before hiring an installation specialist is crucial to getting a reliable, safe and efficient split system installation. Now that you have a rough idea of the sizes and systems available, as well as the overall installation process, you can feel more confident while picking your future system. If you'd still like to chat about system sizes or request a free custom quote on your next installation, get in touch with the team at SimplyAir today!