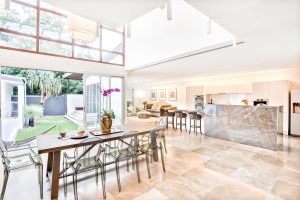 Over the winter months in Melbourne, heating can become a significant expenditure. When building a new home or renovating an existing property, these bills can be minimised with smart planning and thoughtful choices. Making the right decisions at the planning stage can maximise heat efficiency, reduce energy consumption, and help the environment. As well as this, it will go a long way to improving your bank balance.
Be clever with your construction by implementing our helpful tips.
Use the Sun
The orientation of your house can make a huge difference to the amount of passive heating it receives. Take advantage of warm sunlight by maximising the amount of north-facing living space in your home and make sure trees or other large objects won't shade any windows during the daytime. Consider installing skylights where possible to get even more exposure but make sure all windows have effective coverings to keep heat in when it gets dark.
Insulate
Insulation provides a physical barrier to prevent heat flowing from your home and it is a vital aspect of efficient home heating.Windows that are not specially treated will allow heat to pass through; consider looking at insulating curtains and upgrading to low emission windows such as double or triple glazed. There are many forms of insulation that can be installed in walls, floors and roofs, so make sure you find out which option is best for your property.
Seal the Building
Air leakage from a home represents 15-25% of winter heat loss. Fortunately, it is easy and relatively cheap to avoid. Make sure all windows, doors, vents and fireplaces are properly sealed during installation and double check this when the first cold spell hits. If you find any additional leaks, these can be minimised with inexpensive draught excluders and insulating tape.
Plan Zoning
While open plan spaces are great for airflow in summer, they can prove more expensive to heat in winter. Make sure your bedroom and living areas have doors that can be closed to contain heat when necessary. If you're installing a ducted heating system then now is the time to decide which areas will need heating the most and which can be left out.
Use Thermal Mass
The thermal mass of a material simply means its capacity to absorb heat. Materials such as concrete or bricks take a lot of energy to heat and therefore have a high heat storage capacity. On the other hand, wood will gain and lose heat relatively quickly. Taking advantage of the thermal mass of certain materials is a clever way to enable passive heating in your home. For example, if a large north-facing window in the kitchen allows sunlight to hit a tiled floor all day, those tiles will maintain their warmth after the sun has gone.
For more information on efficient heating for your home, call Simplyair now on 03 8692 7138 or visit our website for more ways to get in touch.