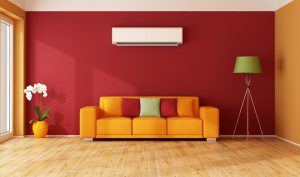 A wall-mounted system remains one of the most popular ways to heat a home or office. Depending on your needs, you have the option of installing a single unit in one room of any size or a multi-head system where multiple wall-mounted units are connected to one outdoor condenser. The Daikin split system uses advanced technology to provide a range of features and a very modern solution to your climate control needs. Below are just a few of the many reasons why we at Simplyair love Daikin split system cooling and heating.
Inverter Technology
Daikin's split systems use clever inverter technology to ensure maximum comfort by continually measuring the temperature of your room and adapting the output accordingly. When your target temperature is reached, the inverter makes sure it is maintained through small but frequent adjustments in power output. This means you can relax in your home without having to manually adjust your climate control.
Flexibility
A split system gives you the opportunity to control climate in different ways and at different times in individual rooms of your home. Rather than having heating or cooling pumped through to all areas at once, a wall-mounted system means only using exactly what you need. It works equally well in a small or a large space and is suitable for a home or commercial environment.
Standby Function
This mode is designed to reduce energy consumption. It works by turning off power supply to the outdoor condenser when the heat pump isn't being used and automatically setting the indoor unit into standby mode. This saves you money on unnecessary heating.
Year-Round Use
The Daikin split system air conditioning and heating units can provide all of the temperature control you need throughout the year. They will efficiently heat your room in the cold winter months and quickly provide cool air when needed over the summer, saving you the expense and hassle of having two separate systems.
Easy Install
A split system doesn't require any complicated ductwork so it can be very quick to install. Electrical cables and narrow piping will connect the indoor and outdoor units so there's no significant work needed on your home. This reduces labour costs and results in an easy installation process.
Comfort Features
The new range of Daikin split system air conditioners and heaters include an optional 'comfortable' mode in their range of functions. In this mode, the delivery angle of cool air is altered to be completely horizontal which prevents cold air from being blown directly at your body. In addition to this, Daikin systems feature a specially-designed 3D airflow where vertical auto-swing and horizontal auto-swing are combined in order to circulate air to even the furthest corners of large spaces.
Want to learn more about the Daikin split system? For enquiries or installation, just call Simplyair now on 03 8692 7138. You can also contact us online for more ways to get in touch.