Melbourne's temperate climate means we are home to some of Australia's coldest winters. In the months from May to November, Melbournians endure minimum average temperatures in the single figures, and although we are a city of winter-lovers, energy-efficient heating in Melbourne is an absolute necessity.
It is even mandatory by law for rental properties to provide some kind of heating in Victorian homes. Making the choice to heat your home is easy, but choosing the most energy-efficient heating for the Melbourne climate is going to help both your wallet and the environment.
How do you know which is the best system for your home? The two most energy-efficient options are hydronic heating and ducted gas heating.
Let's compare them to find out which is right for your home. Whether it's hot or cold in Melbourne, it's always a good time to research heating systems if you need one installed in your home for the extra comfort.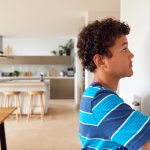 What is hydronic heating?
Hydronic heating systems heat water at the system's heat source to a temperature controlled by you through your programmable thermostat. The hot water is then circulated
through piping, which is typically installed in the floor or ceiling, and transferred directly into the surrounding area through radiators or convectors.
Hydronic heating gives you complete control to choose your ideal temperature for comfort.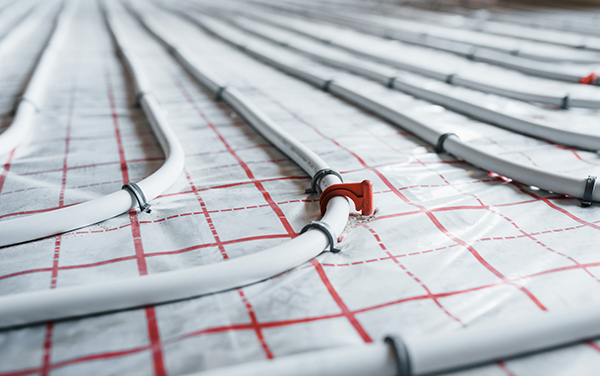 What is gas ducted heating?
Alternatively, gas ducted heating systems heat air using an external furnace run off natural gas or liquified petroleum gas (LPG). Outside air is drawn into the heating unit by fans, which, once heated, is pushed into the house using ducts. The ducting system is generally located in the walls and floors.
Gas-ducted heating can also be used in a split system setup, cooling and heating your home using easy to use temperature controls.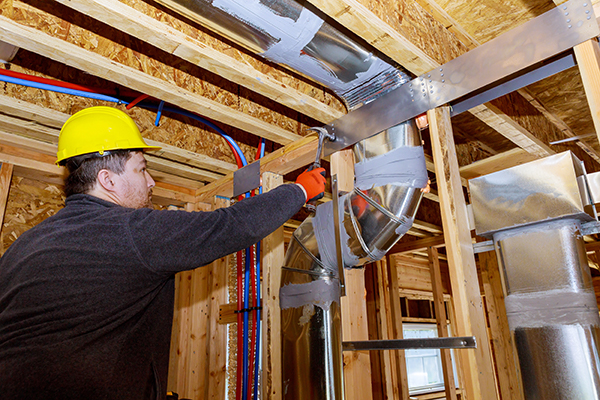 What are the benefits of hydronic heating?
Both heating systems are highly efficient, but there are a few unique benefits to hydronic heating systems. Hydronic heating, also known as radiant heating, uses radiant heat from the warmed piping system to heat your home. Radiant heat keeps you and the objects within your home warm through heated water rather than a noisy ducted system. This method means quieter heating for the whole house, reducing potential noise pollution. Water has a higher thermal conductivity level than air, making hydronic heating systems more energy-efficient than traditional ducted methods.
Additionally, since hydronic heating requires zero fans or air movement, hydronic heating can be beneficial for households that need hypo-allergenic solutions. This is due to the minimal circulation of allergens within your home.
With a small and less conspicuous system installation, hydronic systems allow you a more minimalistic aesthetic by removing the presence of ducts and wall units and maximising your wall and floor space.
Despite being smaller than gas ducted systems, hydronic systems are better suited to installation in new homes that are still being built due to difficulties in retrofitting.
So, to recap, hydronic heating is:
Easily built into new energy-efficient homes.
Quieter than ducted systems because there are no fans blowing air around.
More hygienic because no dust, mould or allergens are being circulated in the air.
Smaller and less conspicuous than gas ducted heating systems.
Radiant heat warms people and objects rather than blowing out hot air.
Economical to operate.
What are the benefits of gas ducted heating?
Gas ducted heating can be slightly louder than hydronic heating, but these systems are still highly energy-efficient. Gas ducted heating systems are also easier to install in existing homes, with cheaper installation costs and staggered installation options for those interested in split ducted systems. By installing heating before cooling, you can warm your house comfortably through winter while you save up for a ducted cooling system.
Gas ducted heating systems provide almost instantaneous comfort, with easy to control temperature settings allowing you to warm your home quickly. This convenience is not as available in hydronic heating systems, where boiling and circulating water can take anywhere between 30 to 60 minutes to warm the room significantly.
Both gas ducted heating and hydronic systems provide the opportunity for lower emissions by forgoing expensive electrical power sources to heat your home and maximising heating efficiency. However, gas ducted heating also offers easy zoning, where rooms are separated into individual zones for direct heating. Zoning can help save on energy costs and speed up your heating process even further.
So, to recap, gas ducted heating systems:
Can be installed in existing or new properties provided the property has enough ceiling or underfloor space for the ducts.
Easy to create zones.
Instant warmth.
Very energy efficient and uses gas, which is less expensive than electricity.
Kind on the environment.
Can stagger the installations (e.g. heating first, cooling later) to manage your budget.
Which is better for your home?
So, is hydronic heating more efficient than gas ducted heating? The short answer: maybe.
There is little data on the topic of hydronic heating's energy efficiency, but all signs point to hydronic heating using very little energy. While both hydronic heating and gas ducted heating systems have clear advantages, there are a few factors that can help you decide which is the right system for your home, including:
The price of installation vs your budget? Hydronic heating installations are generally higher in price than gas ducted heating systems but ultimately cost less to run.
Is the property new or existing? Hydronic heating systems require a piping system that is installed into your home's slab. This means that if your property is pre-existing, it is more feasible to install a gas ducted system.
Does the property already contain infrastructure for either system? Pre-existing infrastructure can reduce installation costs and times.
How important is it to zone off particular areas? Consider your living requirements and household use when choosing a heating system. For example, suppose you live in a busy household. In that case, you more than likely will not require a large amount of zoning, with most of the household being used at any given time. However, if your home is often left with only one or two people, you may want to consider zoning to your home office or any other areas you may regularly frequent.
If you're looking for an economical and energy-efficient way to heat your home in Melbourne, phone Simplyair on 03 9879 2255 or complete our quick online form to get in touch with our friendly consultants who can help you determine the right system for your home.