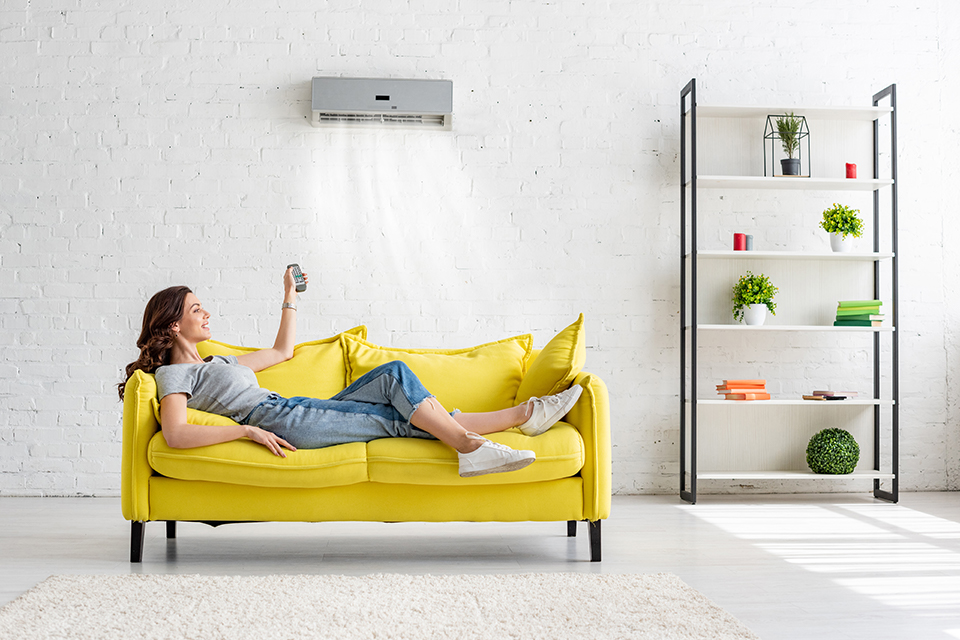 Setting up an air conditioner is a breeze with SimplyAir, but for the 2.7 million Australians who have asthma, selecting a home cooling solution can be a challenge. A well-maintained air conditioning system can keep you comfortable on those warm Melbourne days and also provide cleaner, more breathable air for your home.
In this article, we'll cover common asthma-related air conditioning queries, some suggested asthma-friendly air conditioning solutions & how to best maintain your unit to reduce asthma triggers from your cooling system.
Is Air Conditioning Good for Asthma?
The major issues asthmatics usually encounter with air conditioning come from poor filter cleaning and operation. However, with support from our experienced technicians and a preventive maintenance plan, your air conditioning will operate efficiently and hygienically.
With good air filtration, controlled humidity and temperature regulation, air conditioning can be good for asthma, helping to prevent common asthma triggers within your home.
How Air Conditioning Can Help Asthmatics
With a carefully selected & well-maintained air conditioning unit in your home, you can eliminate irritating pollutants and control your air's humidity, which can sometimes provoke asthma attacks. Air conditioning can help by:
Controlling humidity: high humidity levels can encourage unhygienic mould spore growth, potentially triggering asthma issues when inhaled and causing irritation or potential infections. Your indoor humidity level should ideally sit between 30 to 50%; you can monitor this through internal humidity sensors. Humidity level requirements can vary depending on your independent asthma triggers; for some, humidity can actually be helpful.
Filtering air: incorporating high-efficiency air filters (powerful attachments that can be retrofitted to select air conditioning systems) can help to proactively filter out up to 98% of allergens.
Circulating air: consistently circulating air reduces the prevalence of settled particles and mould growth.
We can help you start on a path to cleaner air by choosing the best air conditioner for your home. Without the correct cooling system selection and ongoing maintenance, your home cooling system could become a trigger for future asthma attacks.
Can Air Conditioning Trigger Asthma?
With a poorly serviced or selected unit, air conditioning can potentially trigger asthma attacks due to factors such as:
Dust and mould build-up
Incorrect temperature settings
Poor humidity control
Weak or inefficient filtration systems
Through household cleaning and routine system maintenance, your air conditioner can help create an asthma-friendly environment inside your home. Between routine servicing (every two years), you can also perform regular cleaning of your unit to minimise the build-up of irritants. The best practice for those with asthma would be to clean these every month or two during periods of frequent usage.
The best method of cleaning will generally be outlined within your air conditioner instruction manual and often includes the following tasks:
Turn off the air conditioner: this is an important step and should always be performed before starting any cleaning or maintenance.
Clean filters: carefully remove the plastic cover on your indoor air conditioning unit and take the filter out. From there, you can shake the filter outside and gently vacuum away any remaining dust using a dusting brush attachment. Depending on the state of your filter, you may also want to hand wash it with warm water and mild detergent. Ensure that it is thoroughly dry before returning it to your air conditioner.
Clean louvres/blades: if you are able to remove the louvres of your air conditioner, you can clean them using a dry cloth or vacuum cleaner.
Wipe down the unit: gently wipe both the interior and exterior of the unit with a damp cloth where safely able to do so.
Clean the outdoor unit: check the external unit for general outdoor debris such as plants, dust and cobwebs. Remove these carefully and run a vacuum cleaner over your external unit to reduce dust. Do not attempt to open this unit.
Remember to always refer to your instruction manual before performing any cleaning or maintenance. Feel free to contact our team with any questions. A well-maintained air conditioner with the correct features is essential to maintaining air quality in your home, with the best temperatures and humidity levels for your asthma.
Cold Air & Asthma – Isn't It Bad?
Very cold air can be hazardous for asthmatics. Air temperatures below 20°C can irritate airways, and cold below 10°C is said to encourage asthma attacks. According to a study in the American Journal of Respiratory and Critical Care, the ideal temperature for asthmatics sits between 20 to 21.6°C. Luckily, most cooling solutions on the market today offer some level of automatic temperature control, simplifying the process. Choosing a suitable asthma-friendly air conditioning system will allow you to maintain the ideal temperature and breathe easier in your home.
Best Air Conditioners for Asthma
With the above information in mind, all that's left to consider is the type of air conditioner you need. At SimplyAir, we highly recommend the use of:
Split Systems: these cooling units significantly reduce humidity for those impacted by high humidity levels. Split systems also completely eliminate the presence of outside air, meaning the filtration system can quickly and efficiently remove pollutants from the air. One notable brand supplied by SimplyAir is Daikin, which offers robust split systems with special filters that are approved by the National Asthma Council Australia.
Reverse Cycle Split Systems: these versatile systems offer dual heating and cooling opportunities, allowing you to control your indoor air quality on humid or temperate days as well as reduce the impact of colder Melbourne weather.
Evaporative Systems: evaporative air conditioning works by drawing in external air and filtering it through wet pads; these wet pads then quickly evaporate the heat from the air and provide added moisture. These units can be a good selection for those with other health issues like sinus problems. Evaporative coolers are preferred by some asthmatics as the increased humidity in the air can be considered soothing for some, however, these systems may have issues running during humid days.
We also recommend using air-purifying filters, which are a highly effective tool generally used in split and reverse cycle installations. Using HEPA technology (High-Efficiency Particulate Arresting), these multi-layered filters often boast anti-mould treatments and deodorisation properties, which work to quickly and effectively purify the air in your home.
Additionally, you may also want to consider one of our Daikin air purifiers. Air purifiers are designed to filter the air of impurities and can minimise the presence of mould, pollen, allergens, odours and dust, amongst other substances. Our Daikin air purifiers use industry-leading streamer technology to remove 99.6% of pollen in 2 hours, 99.9% of mould in 24 hours and 99.61% of allergens in 24 hours. This can be highly beneficial to asthmatics, due to their increased sensitivity to airborne contaminants.
These solutions will help you keep your home more comfortable than ever. The best solution for you will depend on your individual asthma triggers. Our showroom is open to those who want to test out different options, making it easier to choose the most suitable asthma-friendly air conditioning system for your home.